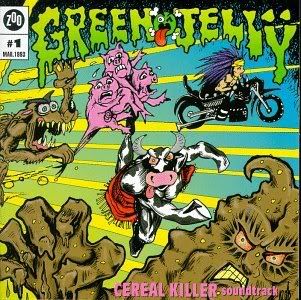 In 2008, Green Jelly decided to tour yet again across the United States on what is thus far known as the "GREEN JELLO, RADIOACTIVE CHICKEN HEADS, MANDOWN & ROSEMARYS BILLYGOAT Tour". Fans eagerly await the beginning of the tour which kicks off on September 17th. For more information, go to the Green Jelly MySpace Page at MySpace.com/Greenjelly
"The year was 1981 and Green Jelly (or then known as Green Jello) would become one of
the most obscure but also one of the most inspiring comedy relief punk bands of its time. By 1984 they released there first EP effort, 'Let It Be'. Numerous songs ended up on later albums and were known to Green Jello fans as
classic
such as "Whip Me Teenage Babe" which ended up on there 1989 debut
Triple Live Möther Gööse at Budokan
.
Although commercial success was never something Green Jello accomplished to the full extent, they did have there short stint in the spot light with the released of 1992's "Three Little Pigs", the story of how the commonly referred to fairytale characters, were nothing more than pot-smoking, trouble makers. The single caught heavy rotation on MTV and amongst popular radio stations. It even featured a cameo by Tool lead singer Maynard James Keenan.
Heavily influenced by Shock-Rock band GWAR, Green Jelly was even noted to have learned how to make there latex costumes from the inspirational group. Though there antics didn't earn them glorious fab and fame, they remain a favorite to many, especially for their notoriety as
trying
to be the worst band ever.
I know I'll be seeing them September 22
nd
in Phoenix, AZ.
Words by: DZA