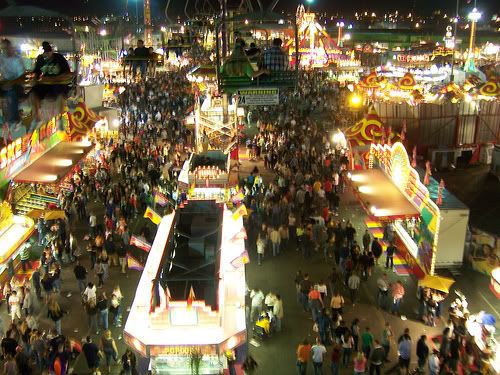 I went to the State Fair last night and I have to say, it was exceptionally better than my last few visits. Although, the fact that I was extremely intoxicated and high might have played a role, I haven't had that much fun at a local Phoenix event in quite a while. The performances from Coolio and Naughty By Nature also lit a fire up under my ass so much that I couldn't help but rush the stage from my seats in the upper third row. Sneaking past the security at each seating section was just half of the fun. I made it up there just in time to hear jams like "Hip-Hop Hooray" and "Jamboree". I was so psyched that after they finished performing, I managed to run past security again and hop on the stage but by then Treach and Vin Rock had already exited. I let the guest DJ know that the performance was amazing and to tell Naughty I'm eagerly awaiting a new album.
After the concert portion, we went out into the Fair grounds and went on the three most adrenaline pumping rides available. I managed to keep down the half a bottle of Prestige Rum I downed earlier throughout the night, but my shoes didn't stay on for all the rides. On the final ride, it felt like we were suspended upside for at least 2 or 3 minutes. Eventually we ALL started screaming (and laughing) that we had been upside down forever. Once we came down to our feet and gathered ourselves to leave, I took in the experience and contently made my way to the entrance. We walked the mile or so back to Encanto park (where we parked for free) and headed back home.
This years attractions and performances re-instilled some happiness in me for the time being. But it's not over! I'll be there again next weekend to see LL Cool J perform live.
-D