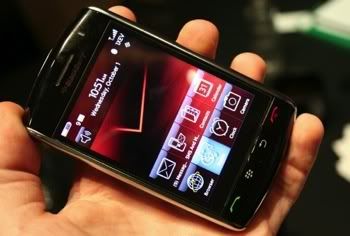 Finally something new besides the Curve or an updated Pearl we can look forward too. Some time last year I wrote a review on the iPhone and it's pros & cons along with a short comparison to the BlackBerry Pearl. After careful consideration, I realized even though I much prefer a Pearl 8100 over the infamous iPhone, that BlackBerry should have a better selection to offer it's customers.
Now we have something that can truly compete with the future of touch screen smartphones and such advanced technological devices. The BlackBerry Storm will be the first phone that can compete with anything like the iPhone. I won't list all the specs of each phone in comparison, however, it is already showing signs of a better device such as the 3.2 megapixel camera as opposed to the iPhones limited 2.0 megapixel (which even the BlackBerry Pearl was limited to). Other advanced specs include a higher screen resolution (480 x 360), and of course it will be available for Verizon carriers.
This is very limited compared to the iPhone, however if your like me and you've read my pros & cons about the iPhone in regards to not needing a full-on-8GB hard drive or more for MP3 and video storage, this might still be the selection for you. It comes stock with a 1GB onboard storage, expandable memory by microSD card and an option to upgrade with a 128MB flash drive. Some advancements from the Pearl include video recording, touch-screen integration of course and an updated web browser that is expected to exceed that of it's predecessor. If you're a BlackBerry fan I would definitely be looking out for this beauty when it arrives in stores November 4
th
, 2008.
Also, keep your eyes and ears open for the BlackBerry Javelin and a possible T-Mobile Bold release which might open up easier, more broad options of a new G3 phone for T-Mobile users.
To check out all the specifications and details, click the link below. Also, click the other link to check out my previous review.
BlackBerry Storm
iPhone: Where Is The Love?